This luxury purple bloom artificial plant wall panel is ideal to install inside or outside in any business, home, or garden to set your space apart from the crowd. It can be cut to fit any shape to ensure a seamless fit to the area you need to cover without leaving any gaps.
Each panel contains a carefully selected range of luxury artificial plants to produce a truly spectacular quality design and finish.
Each panel is 100cm x 100cm and the panels can fasten together for larger areas if needed.
Panels are lightweight and can be installed on any surface using wall plugs and screws
UV, frost and weather resistant, ideal for long term outside use
Highest quality - made using a UV resistant polymer certified to ISO 4892-3 standard, meaning the colour will not fade
All our products are handmade to order ensuring the highest quality and assurance. We aim to ship your product within 2-3 working days but larger orders may take longer.
Customer Reviews
06/27/2022
Health Fusion Clinic ..
Brilliant product and service
Love it love it love it, great product, decent quality with speedy delivery
05/30/2022
Victoria W.

United Kingdom
Looks brilliant!
Absolutely delighted with this artificial living wall. Looks brilliant, realistic and very full of plants. The purple flowers really work well and add just enough colour.
04/24/2022
Brenda

United Kingdom
So happy and super easy to install
I wasnt sure which colour to go for but i am so happy i went with the purple, delivery was quick and fitting was really easy, I had to cut around some plug sockets on my wall but this is really easy due to the grid system the plants are fixed to. Really happy - Thanks Treesy Green :)
04/24/2022
Charlotte H.

United Kingdom
Fantastic display
I had ordered 3 of the 1x1m panels to cover a ginnel space down the side of my conservatory. So now when I look through the windows whilst remote working, I see this beautiful display rather than a fence panel. I'd previously not had any joy growing plants because of its dark/dry space, and these artificial panels give far more cover than real plants anyway, not that I'd ever encourage choosing plastic over oxygen giving plants. My only negative feedback is because the panels came constructed it was really difficult to get the 25 x 25 cm individual panels apart, my fingers were extremely sore afterwards and I did rip off some of the joins by mistake. I appreciate you want the connections to be firm as otherwise the panels will come undone which you don't want. I found using a small screwdriver to push through and lift out the stopper was the best method in the end. Worth all the pain and frustration though as it looks great. I will be ordering more, just splitting out the cost as they are very costly solution.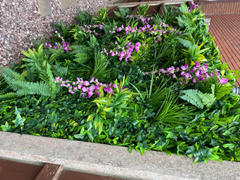 03/01/2022
Cassie S.

United Kingdom